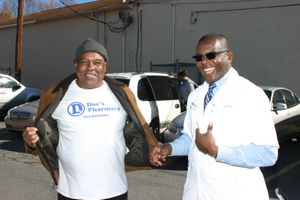 Dr. Michael Ilodigwe
Dr. Michael Ilodigwe, Rph, PharmD is the owner and operator of Doc's Pharmacy in Charlotte, NC. He understands the uniqueness of the patients that he serves in the surrounding, diverse neighborhoods. "Doc," as he is affectionately called by his patients, offers transportation to wellness office visits, free medication delivery, free blister adherence packaging for medications, and durable medical equipment services. Doc's Pharmacy also hosts an annual "Feed the Hungry" Thanksgiving lunch at the pharmacy where a free meal and pharmacy merchandise is offered to the local community.
Dr. Ilodigwe, has extensive experience in providing medical and wellness information to his patients that spans over 20 years. His career began as a staff pharmacist pharmacy assistant in urban and rural environments for Eckerd Drugs, CVS, and Rite Aid pharmacies. As he served across the micro cultures, he felt compelled to provide a more personable, customer-centric service to his patients. Hence, he launched Doc's Pharmacy in 2013 with a unique approach to service delivery where the community feels welcome as a patient or customer.
A native of Nigeria, Dr. Ilodigwe earned a Doctor of Pharmacy from Temple University School of Pharmacy and a Bachelor of Arts in Biology from the University of Delaware.